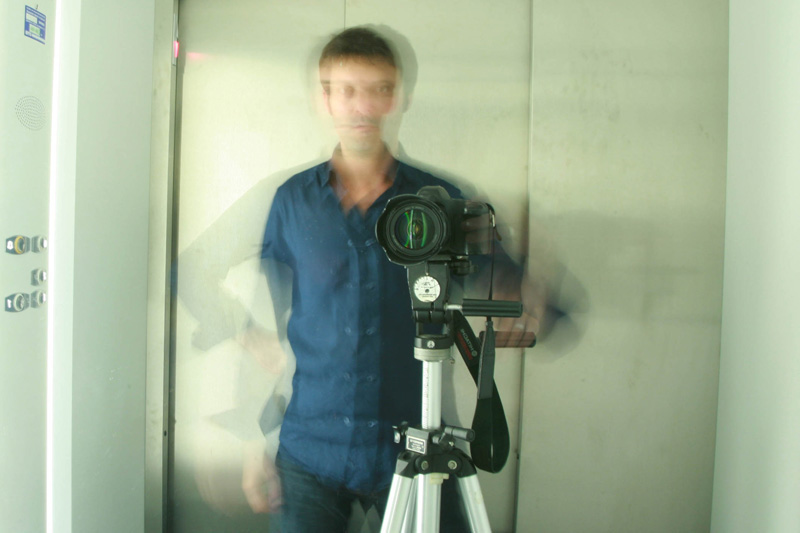 Francesco Corbetta
Born in 1977, he lives and works in Como
Francesco Corbetta has grown up into a photographic environment, thanks to his parents. After finishing his studies, he devoted himself to professional photography and worked with Maurizio Galimberti. This collaboration turned out to be an important experience for his growth. He also worked with Antonio Guccione in the fashion world, where he got in touch with some important figures, worked together on advertising campaigns and friendly "posed" for Alviero Martini. The year 2000 was a key point in his career, since he met Franco Fontana, a great master who initiated him to a "creative-adventurous path" When talking about photographic adventure -  maintains Fontana - I mean breaking rules bravely. To me photographying in a creative way isn't simply to illustrate, but to reinvent photography Alcune sue fotografie sono conservate presso il Centro Italiano della Fotografia d' Autore e la Galleria civica di Modena.
Some photographs by Francesco Corbetta are kept at "Centro Italiano della Fotografia d'Autore" (Italian Centre of Photography by Authors"), at the Galleria Civica (City Gallery) in Modena and at the Pinacoteca (Picture Gallery) in Como.
2020 Mostra personale
P&P, a cura di Sergio Gaddi
mostra evento per Servoartpack, Chiasso, Swiss
2019 Mostra collettiva
Windows Project,
Spazio22/FL Gallery, Milano
WopArt (fiera arte) Lugano,
per Fondazione Kodra Swiss
2018 Mostra collettiva
30x30x30, ArtCompany, Como
Cities, Francesco Corbetta Studio
Ecotrasformazioni, Francesco Corbetta Studio
2017 Mostra personale
2017 – Polis & Polis
Lariofiere, Como
2016 Mostra personale
Francesco Corbetta 2006 -2016
Banca Generali, Como
2015 Mostra collettiva
L'Uomo nel Paesaggio
S.Pietro in Atrio Como
ArtExpo, Villa Bagatti Valsecchi, Varedo MI, a cura di Vittorio Sgarbi.
2014 Mostra collettiva
Patchwork Must Gallery, Lugano.
AquaeMundi, Fusion Art Gallery, Torino a cura di Roberto Mastroianni e Walter Vallini
2013 – Mostra collettiva
Agorà, Miniartextil, Montruge
Parigi
2013 – Mostra personale
Uno spaesamento felice, Lungolago Como,con Ass.
Amici di Como/Consorzio Como Turistica
Polis&Polis, Galleria Maria Cilena, Milano. A cura di Roberto Mutti e Roberto Borghi
2012 – Mostra collettiva
Agorà, Miniartextil 2012
Villa Olmo Como a cura di Luciano Caramel
2011 – Mostra colletiva
Mantero
Cento Anni di Architettura
Spazio Culturale A.Ratti (Ex.Chiesa S.Francesco) Como
2011 – Mostra personale
Francesco Corbetta, fotografie
spazio Kryptos architettura arte design
Milano
2010 – Mostra personale
Francesco Corbetta
raccolta fotografica
7,24 x 0,26 Gallery/Grazia Neri, Milano
2010 – Mostra collettiva
Archiviarti, fabbrica Borroni, MI
Tremuit Terra, Spazio Taccori, MI
Tie Art, Designdiffusion Edizioni/Fitzcarraldo, MI
Tie Art, esposizione On Air, CO
2009 – Mostra personale
Francesco Corbetta
presentazione Spazio Cinema Anteo
in collaboraz. con Wannabee
Milano
2009 – Mostra collettiva
Una mano per AIL, Palazzo Clerici Christie's, MI
ComoContemporaryContest, Pinacoteca, CO
1000 artisti a Palazzo, Palazzo Arese, Cesano Maderno, MI
2008 – Mostra personale
Il sogno di una città psichedelica
DiamondGallery
Morcote Lugano
2008 – Mostra collettiva
ComOn ArtProject Villa del Grumello, CO
80 Artisti a Palazzo Palazzo Giovannelli, Canal Grande VE
ExpoLissone08, in collaboraz. Museo Arte Contemporanea Lissone e FIAF
Hanging Around, Progetto Europeo, Centro Arte e Cultura, MO
Cavalli in Piazza, Laboratorio delle Arti, PC
2007 – Mostra collettiva
Black and White galleria Milly Pozzi Arte Contemporanea, CO
Linee di Fuga, Galleria Milly Pozzi Arte Contemporanea, CO
2006 – Mostra personale
Como Città Oltre Molteplici Orizzonti, S.Pietro in Atrio Como
2005 – Mostra collettiva
Crazy London, LeccoImmagiFestival, LC
Riparte05 Roma, TriangoloArte, BG
Premio Arte Giovane Mantero, La Tessitura Gallery, CO
Nuove Proposte, Centro Italiano della Fotografia d' Autore, bibbiena AR
2004 – Mostra personale
Omaggio a Terragni, per Fondazione Terragni, Villa Comunale Erba Como
2003 – Mostra collettiva
ScomposizioneRiflessioneTempo, ToscanaFotoFestival, Massa M. GR